Our Commitments :
We ensure that your order is correct before final dispatch.
Shopping with us is SECURE and SAFE.
We will not disclose your personal information to any third party.
How We Handle & Process Your Online Order
Within seconds of placing your online order, you will receive an email confirmation containing your order number & other important information.
If you place an order during regular business hours, we make every effort to dispatch it the very same day. If you order later in the day, your order will be packaged and prepared for dispatch the very next morning.
After we have processed your online order and it is dispatched, you will receive a second email with your tracking number. This tracking number will enable you to check the progress of your delivery at the relevant Courier or Australia Post website.
Delivery Terms and Conditions
We offer FREE DELIVERY AND ASSEMBLY ON ALL OUR FITQUIP TREADMILLS DELIVERED TO BRISBANE OR PERTH METRO AREAS. All delivery and handling costs are included in the total of your shopping cart.
Our online store attempts to estimate the delivery costs based on your delivery address (postcode) you enter during checkout.
We will contact and advise you of any changes to the delivery cost before billing you.
Items delivered by commercial couriers need to be signed for. Therefore, you (or an authorised representative) must be at the delivery address to sign for the goods. Should someone not be at the delivery address to accept the goods, then we reserve the right to charge a re-delivery fee.
Items delivered by commercial couriers under a standard delivery will be delivered to your curbside and does not include labour/handling or delivery vehicle tail-lift. Extra delivery options incur additional costs and can be arranged by phone only.
Free Freight - Conditions on selected products
Selected products have a small icon image with the words "FREE SHIPPING". These products incur no freight charges to most places in Australia!* *subject to conditions - reasonable delivery areas. If you are located outside of a reasonable delivery area (remote regional areas), then we will contact you with a discounted freight charge.
Reasonable Delivery Areas

Each State Capital city and major Metro areas, including large towns and shires.
Areas outside the Reasonable Delivery may incur an extra fee for delivery

Remote or Country Areas in WA, NT, QLD, NSW and VIC.

All of TAS.
If you are in one of these areas or unsure what area you are in, please contact us by phone or email and we will provide you with a quote for delivery.
Freight Charges under 20kg (eg. Supplements)
..
Deliveries under 20kg and under $200 have a charge from:

| | | |
| --- | --- | --- |
| State | Region | Charge |
| QLD | Brisbane | $10.00 |
| QLD | SE QLD | $10.00 |
| QLD | Other QLD | from $11.00 |
| NSW | Sydney | from $10.00 |
| NSW | East Coast | from $11.00 |
| VIC | Melbourne | from $11.00 |
| VIC | Other VIC | from $12.00 |
| SA | Adelaide | from $11.00 |
| WA | Perth | from $12.00 |
Deliveries to areas outside these zones but under 20kg are calculated at a rate depending on the total weight of the order.
Freight Charges over 20kg (eg. Fitness Equipment)
Deliveries over 20kg are calculated at a rate depending on the total packing weight of the order.
Add your items to the shopping cart to find out your delivery charge.
Installation of Equipment
We offer FREE INSTALLATION ON ALL OUR FITQUIP TREADMILLS DELIVERED TO BRISBANE AND PERTH METRO AREAS. the option to have your Fitness Equipment Installed, When the option is selected we will contact you as soon as possible with a quote for the cost of Installation. The price may vary depending on location and the equipment purchased.
Installations in Brisbane and Perth Metro areas and Nearby surrounding areas are completed by our own experienced Fitness Market Technicians.
Installations in all other areas are arranged through trusted third party equipment technicians.
all Brisbane and Perth Metro areas have FREE INSTALLATION ON ALL FITQUIP TREADMILLS, we offer installation on other product if required a a nominal fee.
If you have any questions regarding this service please contact us.
Fitness Market Van - Free Deliver and Assembly on all Fitquip Treadmills delivered to Brisbane and Perth Metro areas
Fitness Equipment purchases (within SE Queensland) have the option (in Cart Checkout) to select Fitness Market Van to deliver and assemble the equipment in your home/office (Brisbane Metro and Perth Metro customers only).
Our professional installers will deliver the bulky goods into your premises, unpack the components, assemble, and remove any packaging material ( incurs a $15 fee).
We will contact you to arrange a time with you (or your representative) to be home to allow our professional installers access to your premises for delivery and assemble the equipment.
Calculating Freight Charges
Our online store can estimate the freight charges for you.
To calculate freight charges, add the item to your shopping cart and enter your postcode when requested. The online store will then estimate the freight charges to your postcode.
Nothing is charged unless you continue with the checkout process and submit your order.
Delivery Locations
We deliver to most areas of Australia.
We don't deliver outside of Australia.
Our primary warehouse is based in Brisbane with manufacturer warehouses able to deliver from Sydney and Melbourne.
The option to order online and pickup the goods yourself from our one of our branches is available. Select "Pickup" in the delivery options when placing your order online.
Delivery Times
All Fitquip Treadmills includes delivery and assembly within 3-5days. Orders are dispatched from our warehouse same day or the next working day after placing your order, subject to stock availability. This means you can expect to receive your order within 1 to 7 working days, depending on the location, but this can be longer during peak periods.
Particular items that are "Drop-shipped" may incur a longer delay. These items are identified with suffix of DS in the product code.
During times of peak seasonal demand there may be a slight delay in the delivery of your order, so if it is urgent then feel free to call us or email us.
Pre-orders for products not currently in stock will ship as soon as stock is available. We will contact you if an item is not in stock.
The Couriers deliver goods based on their time schedules. If you are not present to sign for receipt of the goods, then you must either provide consent for the driver to leave the goods at your delivery address OR you can nominate to pick up the goods from the Courier Depot. If you fail to receive the goods, then you may be liable for a Re-delivery Fee.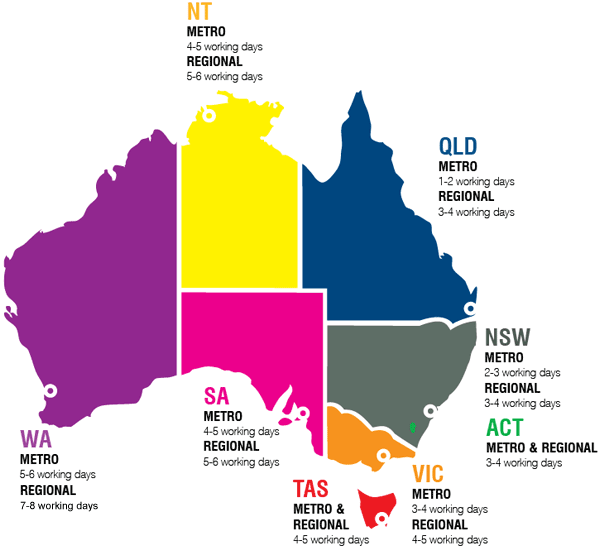 Couriers and Postage Services - Tracking you order
We use the services of several courier and delivery companies to ensure that our products are delivered to all areas of Australia at the lowest prices possible regardless of weight or size.
You can track your order by using the Tracking Number provided in the Order Confirmation email or by logging onto your Fitness Market online account.
We use the following Courier and Postal companies: